How cloud-based solutions bring efficiency and scalability to your hedge fund due diligence process
The adoption and use of cloud computing has become more and more prevalent in recent years, and providers of financial-technology solutions are increasingly offering cloud-hosted versions of their software to customers. In parallel to cloud-based solutions' growing popularity, the hedge fund industry continues to grow and thrive year on year, making the demand for seamless and efficient IT solutions in this space greater than ever before, especially when it comes to due diligence processes.
However, with the changing economy and new regulations coming into effect, the efficiency of firms' internal IT teams is being challenged as they struggle to remain compliant and focus on important strategic growth goals at the same time. Being able to transfer the burden of building and maintaining an infrastructure to a software vendor, freeing up time and resources to focus on increasing operational efficiency and compliance, is an attractive solution to fund investors and allocators. Additionally, in a growing industry where downtime can greatly affect fund performance, cloud-based solutions are becoming popular for increasing the efficiency and scale of hedge fund due diligence processes.
The benefits of cloud-based solutions to hedge fund due diligence
The benefits of adopting cloud are no secret and enterprises that have either partially or fully embraced cloud solutions have long been reaping the benefits. Decreased IT costs as the result of outsourced infrastructure, increased remote access due to browser-based systems, and improved system durability thanks to distributed storage and computing, are some of the benefits that cloud provides to businesses.
Cloud-computing can support front, middle and back-office functions, and as data and data management becomes increasingly valuable to financial services, these capabilities present financial firms with an opportunity for improved operational efficiency. By adopting cloud-based solutions, fund investors and allocators can enjoy improved system availability and uptime, seamless communication and data transmission across locales, reduced expenses, increased data security and streamlined compliance - an outcome particularly beneficial to hedge fund due diligence processes.
What cloud-based solutions offer hedge fund due diligence processes
When selecting a cloud-based solution for your hedge fund due diligence process, assess potential vendors' offerings when it comes to the below considerations.
Flexibility
Cloud solutions are known for their flexible infrastructure configurations and features that enable easy adoption of cloud solutions into day-to-day processes. Teams can switch up their systems for more efficient insights and outcomes as required, meaning no need to wait until next quarter to leverage an API that's needed in your infrastructure now, for example.
Cloud-based solutions like that offered by AlternativeSoft give investors, allocators, and compliance teams improved flexibility in how they manage their data. Being able to import your existing funds' information and historical returns from existing legacy software systems, Excel or in-house databases into the cloud platform means generating improved insights and streamlining due diligence outcomes with minimal disruption to existing processes.
Additionally, being able to flexibly generate PDF, web-based, or Excel-based fund fact sheets and other important documents instantly means time and resources can be better spent analyzing funds and identifying opportunities for growth. AlternativeSoft makes this possible with our range of APIs that can be leveraged for quick document generation, making information instantly available to share with investors or regulators as and when needed.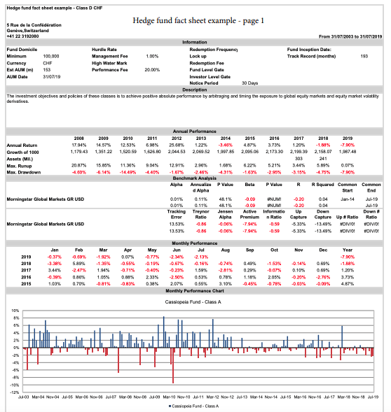 Efficiency
Disparate systems that don't integrate effectively make due diligence processes more complex and intricate than they need to be and can cost fund investors and allocators considerable time. Cloud-based solutions that allow teams to integrate data into one, easy-to-use platform that aggregates disparate data sets and their relationships to one another.. Additionally, being able to monitor and manage operational tasks through a central information repository provides accountability mechanisms to compliance processes and allows teams to quickly verify and retrieve information, benefitting hedge fund due diligence process efficiency.
AlternativeSoft's solution offers allocators the ability to use a single tool to integrate both manager data collection and due diligence documentation easily, and with access to over 31,000 hedge funds on our due diligence platform from providers like HFR, BarclayHedge and Eurekahedge, accessing, cleaning and organizing data is easier than before. By leveraging cloud-based solutions with these kinds of capabilities, any hedge fund due diligence process can experience improved efficiency more quickly.
Scalability
Meeting your organizational and operational needs now is one thing, but accounting for future requirements is another. This disconnect usually leads to firms overhauling entire systems periodically as they expand due to a system's inability to grow with the firm. Cloud-based solutions mitigate this inconvenience entirely as they provide the capabilities needed to scale your systems as your business grows. This allows allocators and compliance teams to meet current requirements while being sure of their system's ability to scale as their processes scale and introduce new requirements.
Harnessing the scalability offered by cloud-based solutions like AlternativeSoft accommodates current and future operational and compliance requirements, and allows for more swift issue identification and resolution that ultimately enables a firm's long-term growth. Providers like AlternativeSoft also compliment scaling firms by offering modular solutions which can be purchased for current requirements, and should your growth need additional modules, you can build on your existing solution with other capabilities, meaning that your solution scales as your firm does.
Customization
The most effective software solutions today provide a considerable amount of customization to users. As such, the cloud-based solution you choose for your hedge fund due diligence process must be able to offer you customization capabilities so that you can best leverage the solution in accordance with your unique requirements.
AlternativeSoft's solution provides proprietary templates for users to be able to customize, create and share RFI, RFP, reports and DDQ documentation quickly and easily. The platform also allows users to define their own unique due diligence workflows for optimal delivery, as well as the ability to evaluate manager performance at every stage of a fund life cycle.
Ease of use
A cloud-based solution's ease of use can't be understated and should be one of the top priorities when selecting a solution for hedge fund due diligence processes. Introducing a new tool into any operational environment can be overwhelming, and is often met with a lot of resistance from teams that are used to working with existing tools. The easier the tool is to use, the more seamlessly it will be implemented into existing processes, as even the most resistant of employees will benefit from the convenience of ease. Furthermore, if a cloud-solution vendor offers post-sales support and training like AlternativeSoft does, teams can become proficient at using the tool much quicker.
This ease of use extends to not only the tool's interface, but whether it allows users to enter information directly into the platform on a standardized, one-off basis rather than requiring consistent re-keying across multiple disparate channels. Cloud-based solutions like AlternativeSoft provide this functionality, making storing all data and reports in one central platform an easy process, while also allowing for full audit trail access and complete due diligence process oversight.
AlternativeSoft's due diligence solution for hedge funds
AlternativeSoft's cloud-based operational due diligence solution is a centralized, fully auditable platform that allocators and investors can use for the seamless exchange of information. Combining industry recognized investment analytics with our due diligence platform allows fund investors and allocators to create an all-in-one ecosystem for selecting and monitoring the best managers, regardless of the cloud provider they may already be using.
The AlternativeSoft due diligence solution offers:
Improved efficiency and better operational performance with its delivery-enabling functionality
Less opportunity for error as data is captured once for multiple use
Scaling capabilities that meet a firm where it is now and seamlessly scales as the firm grows
Choosing AlternativeSoft's hedge fund due diligence solution is an investment into your firm's future growth, as not only are you given a more effective, cloud-based solution to empower your due diligence processes and future growth overall, but AlternativeSoft's team of experts can also be counted on for ongoing support and any questions or concerns that may arise throughout your hedge fund due diligence process.
Summary: Scale your hedge fund due diligence with AlternativeSoft
The investment economy and its regulatory landscape continue to evolve, presenting funds and their management and compliance teams with more complexities and considerations than before. Ensuring your hedge fund's due diligence process is primed to handle these developments, without increased expenditure in both time and resources, means leveraging an effective cloud-based solution that can support improved efficiency and future scalability.
AlternativeSoft offers a single, comprehensive, cloud-based due diligence solution that meets the needs of both operational and investment due diligence processes. With a total combined AUM of over $1.5 trillion worldwide, some of the world's largest pension funds, fund of funds, private banks, endowments, foundations, wealth managers and advisers trust AlternativeSoft with their compliance needs, allowing them to invest in and manage funds more efficiently. To see our solution in action, book a dedicated, online demo with our experts or reach out to our team for more information on how AlternativeSoft can help your fund.
---